In 2017 the Bakersfield Chapter of ASSP lost our friend and colleague Frank Rosenlieb. Frank graduated from South High in 1974 and received his bachelor's degree from UC Davis. Frank was an Eagle Scout and remained involved with Boy Scout Troop 712. Frank became a member of the ASSP in 1999 and served as the Bakersfield Chapter Secretary from 2003 until 2017 where he set the standard for the position. He was named the Safety Professional of the Year in 2006- 2007.
When we describe Frank Rosenlieb, these values come to mind:
Trustworthy, integrity, insightful, high character, humble, and loyal.
2023 Frank Rosenlieb Dedicated Service to ASSP Recipient
Joe Barrifi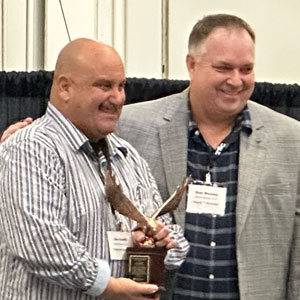 2022 Frank Rosenlieb Dedicated Service to ASSP Recipient
Joel Sherman
2021 Frank Rosenlieb Dedicated Service to ASSP Recipient
Mark Smith
2020 Frank Rosenlieb Dedicated Service to ASSP Recipient
Gary Chambers, CSP
2019 Frank Rosenlieb Dedicated Service to ASSP Recipient
Catherine Jones, CSP, ARM
2018 Frank Rosenlieb Dedicated Service to ASSE Recipient
Mark Ruder CSP