The Hispanic Safety Professionals (HSP) Interest Group advances professionals in the Occupational Safety and Health (OSH) profession through networking, collaboration, education, and mentoring.
We aim to help members of our community achieve their fullest professional potential and are dedicated to advocating for the unique issues facing Hispanic workers through outreach, research and community collaboration.
Our member community provides countless opportunities for our Hispanic members to connect with great resources and great people while engaging with each other on a global scale.
We offer education opportunities that members can immediately put into practice, as well as a wide range of leadership opportunities, to help our members develop to their fullest professional potential
We are dedicated to advocating for the unique issues facing Latino workers through outreach, research and community collaboration
With approximately 400 members, we provide a vast and supportive community for networking, collaboration and change-making
Become a Member
ASSP membership benefits OSH professionals across the full career continuum, whether you're a student, young professional, seasoned manager or corporate leader.
Two member types apply for most safety professionals and those who work in related fields and occupations: member and professional member. Which category is right for you will be determined based on the information you provide on your application.
Through links below you can also apply for membership in local chapters, practice specialties and common interest group member communities such as HSP.
For more information contact Vanessa Galvan at hspbakersfield@gmail.com.
2021 HSP Hispanic Heritage Month
WEEK 1: OUR HISTORY
Learn more about HSP through our history, mission and values.
WEEK 2: MEMBER EXPERIENCE TESTIMONIALS
See our social media posts describing member experiences and HSP initiatives from September 20-24, 2021.
WEEK 3: PROFESSIONAL DEVELOPMENT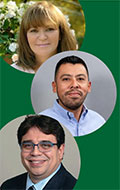 September 27, 2021 | 1:00 pm – 2:00 pm
Topic Charlas – Panel Discussion on Elevating Your Future in Safety
This panel discussion, organized by the Hispanic Safety Professionals (HSP) community, gathers safety professionals from across the country to connect, network, and learn about different career paths in the safety profession.
We have brought in three outstanding speakers to share their experience in order to inspire students, as well as early career and more seasoned safety professionals.
WEEK 4: PROFESIONALES EN LATINOAMERICA
October 7, 2021 | 4:30 pm – 5:30 pm
Topic Retos y Oportunidades que los Profesionales de Seguridad de Hoy Enfrentan a Nivel Global
Unase con expertos en el área de seguridad y salud ocupacional a nivel global. Durante esta sesión definiremos la importancia del rol de cada líder de EHS en las empresas dentro de un ambiente multicultural. Por medio de esta sesión proporcionaremos a la audiencia ejemplos prácticos sobre los retos y como enfrentarlos cuando deciden elegir su desarrollo profesional dentro del área de EHS.
WEEK 5: SEGURIDAD CON UNIDAD
October 12, 2021 | 9:00 am – 10:00 am
Topic Words of Advice to All Safety Professionals of Today and Tomorrow
Join us as we welcome ASSP Past President Rixio Medina in celebrating National Hispanic Heritage Month 2021. Hear about Rixio's challenges, opportunities, and successes as well as his advice to all Safety Professionals of Today & Tomorrow.
October 12, 2021 | 11:30 am – 12:30 pm
Topic Psychological Safety – The Relationship Factor In Safety Leadership
Speaker Rosa Antonia Carrillo
To celebrate Hispanic Heritage Month the first 15 participants to log in to this event will receive a copy of The Relationship Factor in Safety Leadership compliments of HSP.
Hispanic Heritage Month Newsletter
Presentations
Resources