October 5, 2022




7:00 am - 8:45 am
October 5 is Member Bring A Guest* month! *Guests (brought by current Bakersfield Chapter MEMBERS), who complete a guest info sheet at check in eat for $10!
Topic Earthquakes: Why the Earth Moves & What to do about it" (Preparedness and Response)
In California we're surrounded by faults that are causing earthquakes all the time, some of them might be big enough for us to feel! What can we do? Will California fall into the ocean or will I get beachfront property? Should I buy a bunch of bottled water to prepare? Why do we get all these earthquakes? Faults and earthquakes are part of life here. Our speakers will answer your questions about how earthquakes work and what we can do to prepare for them. They'll present some interesting facts, relating earthquakes to colonial architecture and the best place to be in an earthquake will surprise you. We'll cover the new technology in early warning systems and review how to prepare now and what to do when the ground starts moving.
The earthquake preparedness & response will touch on Hazard Awareness and Insights for Work and at Home. (e.g., Utilities, Roads, Communications, etc.) What can organizations and individuals do to prepare? What is the warning system in California and in Kern County? How does it work? How will organizations and citizens be notified (e.g., by text?). How far in advance will the notification be sent? What if cell towers are out? If cell service is available, what tools/apps should be download now to help be ready?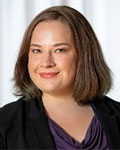 Speaker Emily A. Fisher – Exploration & Production Geologist & Andrew Freeborn  BFD Public Information Officer
You may have seen them provide earthquake expertise on Channel 17!! Their day job is a Senior Exploration & Production Geologist for Aera Energy for the past twelve years. Emily has a master's degree in geology from Fresno State studying the faults of Eastern California and a bachelor's in geology & environmental science from Miami University (Ohio) studying faults in western Turkey. They were also a seismologist at Miami University under an NSF grant, studying earthquakes near Fiji. Today Emily is passionate about making earth science accessible to everyone, using their Facebook page "Geology Answers" to explain geology principles. They will also be featured in an upcoming documentary about the 1952' Tehachapi Earthquake.
They've contributed to the local San Joaquin Geological Society and the greater American Association of Petroleum Geologists in many board positions and by giving many geological talks on west San Joaquin Valley oil fields.
Emily enjoys rocks all week and rocks all weekend, spending their time rock climbing most weekends.
Registration
Two Options for this event (In Person at Hodels or Zoom Virtual Platform) 
Option 1 In Person Breakfast at Hodels from 7:00-8:45am. RSVP to membership@bakersfield.assp.org. 
$15 per person, Cash/Check/Credit/debit cards accepted/$5 for Student and Emeritus Members of ASSP – Walk ins Welcome
Option 2 is via Zoom Meeting Virtual Platform from 7:30 – 8:45 AM
Zoom Registration Link
https://us06web.zoom.us/meeting/register/tZIqdeCprzkiHtOCNgFOOe_TSAHvRQb_UD2L
Venue: Hodels Country Dining Restaurant
Address:
5917 Knudsen Dr.
,
Bakersfield
,
California
,
United States